Drawing of the Week • Previous Weeks 2005 • Previous Weeks 2003 • Home • Store
December 29, 2004
December 22, 2004
December 15, 2004
New York Times
December 18, 2004
In Congo War, Even Peacekeepers Add to Horror
The United Nations said recently that it had uncovered 150 allegations of sexual abuse committed by United Nations peacekeepers stationed in Congo, many of them here in Bunia where the population has already suffered horrendous atrocities committed by local fighters. The raping of women and girls is an all-too-common tactic in the war raging in Congo's eastern jungles involving numerous militia groups. In Bunia, a program run by Unicef has treated 2,000 victims of sexual violence in recent months. But it is not just the militia members who have been preying on the women. So, too, local women say, have some of the soldiers brought in to keep the peace.
December 08, 2004
New York Times
December 8, 2004
Iraq-Bound Troops Confront Rumsfeld Over Lack of Armor
CAMP BUEHRING, Kuwait, Dec. 8 - In an extraordinary exchange at this remote desert camp, Defense Secretary Donald H. Rumsfeld found himself on the defensive today, fielding pointed questions from Iraq-bound troops who complained that they were being sent into combat with insufficient protection and aging equipment.
Specialist Thomas Wilson, a scout with a Tennessee National Guard unit scheduled to roll into Iraq this week, said soldiers had to scrounge through local landfills here for pieces of rusty scrap metal and bulletproof glass - what they called "hillbilly armor" - to bolt on to their trucks for protection against roadside bombs in Iraq.
December 01, 2004
(A blast from the past: Fast Company Magazine, 1998)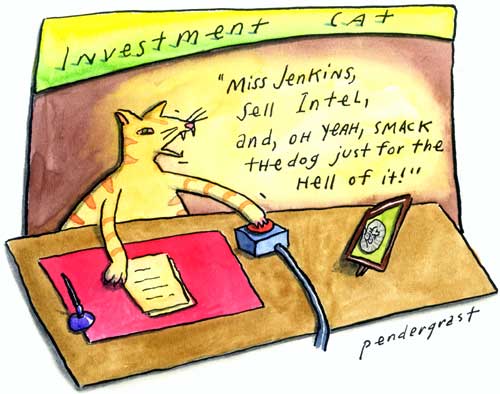 • • •
Where I spent Thanksgiving (The island of Bequia, in the Caribbean)
November 24, 2004
New York Times November 20, 2004
Negotiators Add Abortion Clause to Spending Bill
WASHINGTON, Saturday, Nov. 20 - House and Senate negotiators have tucked a potentially far-reaching anti-abortion provision into a $388 billion must-pass spending bill, complicating plans for Congress to wrap up its business and adjourn for the year.
The provision may be an early indication of the growing political muscle of social conservatives who provided crucial support for Republican candidates, including President Bush, in the election.
November 17, 2004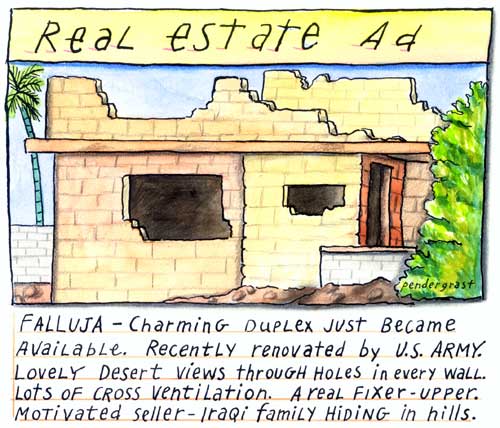 November 10, 2004
(Feeling the need for something a little lighter...)
Los Angeles Times November 10, 2004
CALIFORNIA: 'K-9' star Jim Belushi files a $4-million suit against former Catwoman, actress Julie Newmar, claiming harassment.
Newmar said she had no plans to file a countersuit. "We don't need more grief in the world," she said.
"I'm not catty, even though I'm Catwoman."
November 03, 2004
(This drawing originally appeared in Rolling Stone magazine in Februrary, 1995, but it seemed to fit today.)
October 27, 2004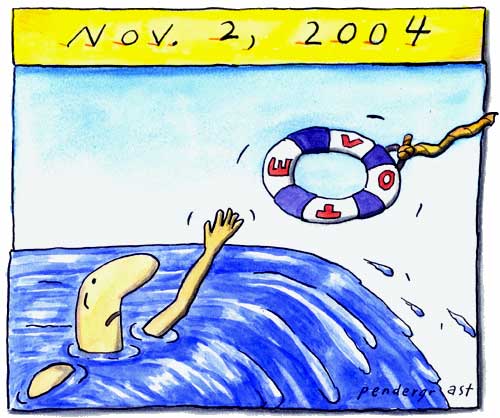 October 20, 2004
October 20, 2004

NEW YORK (CNN) -- The founder of the U.S. Christian Coalition said Tuesday he told President George W. Bush before the invasion of Iraq that he should prepare Americans for the likelihood of casualties, but the president told him, "We're not going to have any casualties."
October 13, 2004
New York Times October 10, 2004
"Bill Allows Atomic Waste to Remain in Tanks"
WASHINGTON, Oct. 9 - House and Senate conferees have agreed to let the Energy Department leave some highly radioactive waste in tanks in South Carolina and Idaho, instead of pumping it out and preparing it for deep burial, effectively reversing a court ruling in a case brought by environmentalists last year.
October 06, 2004
September 29, 2004
September 22, 2004
September 15, 2004
MOSCOW, Sept. 14 - On Monday, President Vladimir V. Putin announced he would strip Russia's 89 regions of much of their authority and electoral legitimacy. On Tuesday, not one of the leaders of those regions said a public word of protest.
New York Times
September 08, 2004
September 01, 2004
August 25, 2004
August 18, 2004
August 11, 2004
August 04, 2004
July 28, 2004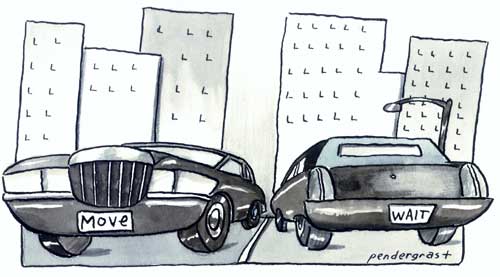 July 21, 2004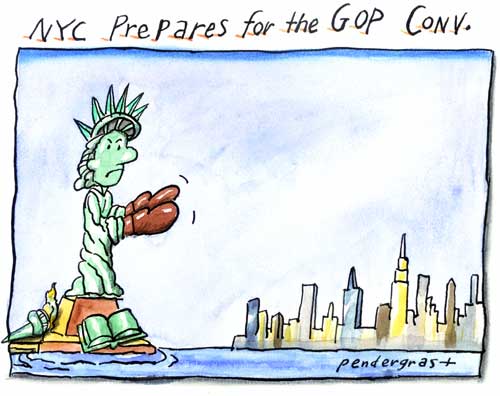 July 14, 2004
"NY Diary"
July 07, 2004
Blast from the past:
Fast Company Magazine, 1997
June 30, 2004
Blast from the past:
Smart Money Magazine, 1994
June 23, 2004
Blast from the past:
Oct 14, 2002, Rolling Stone Issue # 909
June 16, 2004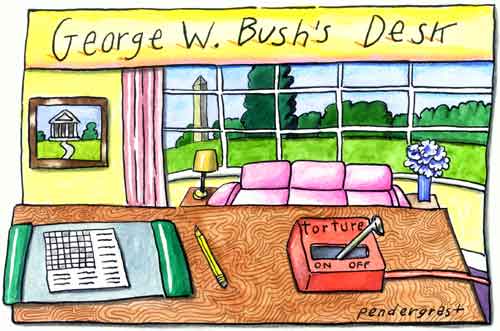 June 9, 2004 New York Times
Bush Didn't Order Any Breach of Torture Laws, Ashcroft Says
WASHINGTON, June 8 — Attorney General John Ashcroft, whose subordinates have written confidential legal memorandums saying the administration is not bound by prohibitions against torture, told a Senate committee on Tuesday that President Bush had "made no order that would require or direct the violation" of either international treaties or domestic laws prohibiting torture.
June 09, 2004
June 02, 2004
May 26, 2004
May 19, 2004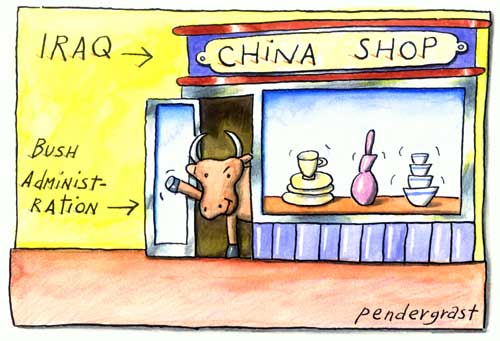 May 12, 2004
May 5, 2004
April 28, 2004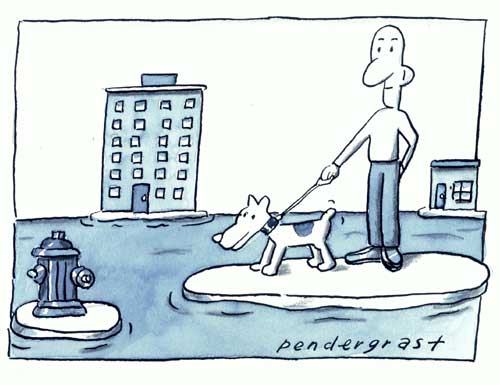 April 21, 2004
April 14, 2004
April 07, 2004
March 31, 2004
New York Times, March 26, 2004
Leaders of G.O.P. Try to Discredit a Critic of Bush
Republican Congressional leaders said Friday that they would seek to declassify past Congressional testimony from Richard A. Clarke, President Bush's former counterterrorism chief, in an effort to demonstrate that the former aide had lied this week about Mr. Bush's record.
The move on Capitol Hill signaled a new intensity in the campaign by the Bush administration and its Republican allies to undermine the credibility of Mr. Clarke, who served under several administrations.
March 24, 2004
March 17, 2004
• • •
March 10, 2004
March 3, 2004
February 25, 2004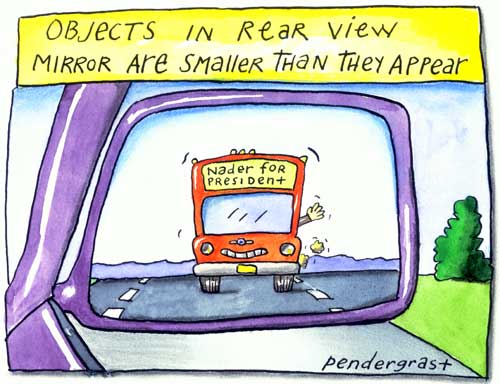 February 18, 2004
February 11, 2004
February 04, 2004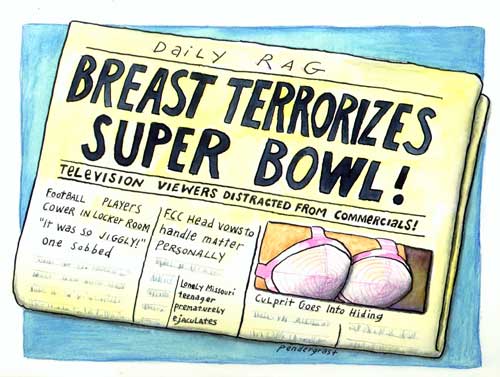 New York Times February 3, 2004
After Flash of Flesh, CBS Again Is in Denial
By ALESSANDRA STANLEY
Wardrobe malfunction" was the term Justin Timberlake used to explain why he bared Janet Jackson's breast at the end of their Super Bowl duet. Like "erectile dysfunction," a term used in halftime advertisements for Cialis, it was a somewhat startling euphemism.
January 28, 2004
January 21, 2004
January 14, 2004
December 16, 2003, Tuesday, New York Times
"The family of the late Senator Strom Thurmond of South Carolina acknowledged on Monday that Essie Mae Washington-Williams, a retired teacher living in Los Angeles is the daughter of Mr. Thurmond and a black woman who worked for his family as a maid nearly 80 years ..."
January 7, 2004